Composite Fabric Expansion Joint for low pressure ducting applications.
Fabric Expansion Joints utilize a composite fabric material as the flexible element of the expansion joint. They are typically used in low pressure ducting applications to compensate for misalignment, vibration and thermal growth. Fabric expansion joints can be designed with composite fabric with integral insulating layers or separate insulation pillows to handle temperatures in excess of 1000˚F.
Fabric Expansion joints can used to compensate thermal growth in ducting and misalignment without the spring loads typically associated with metal expansion joints. Fabric expansion joints can also absorb large lateral movements or misalignments. Additional components, like flow liners, insulation blankets and accumulation barriers can be added to the fabric expansion joint depending on the application and service.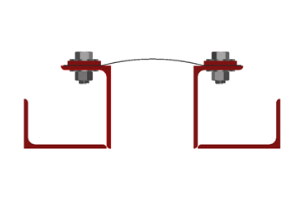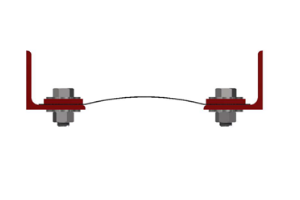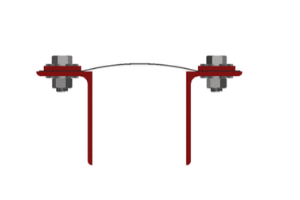 BSI Therma-Joint Flexible Expansion Joints – for high temperature applications like Turbine Exhaust.
Standard Construction: Layered high Temperature fiber glass cloth, stainless foil and stainless steel mesh stitched together to form a unitized insulating expansion joint. The standard design is able to endure temperature of 1200˚F and to eliminate excessive vibration associated with the transfer of hot gases through the ducting systems of gas turbines and furnaces. Therma-Joints can be designed to withstand temperatures up to 2500˚F.
Fabric Expansion Joint Types
Assembly: Belt Type or Flange Type
Shapes: Circular or Rectangular
Optional Features:
Liners (Drop in or Integral)
Insulation sleeves/ Accumulation barrier
Control rods
Standard Performance Data:
Temperature Range: -20˚F to 1200˚F
Pressure Range: -60in to 60in of water (H2O) column.

Movement Range:
| | | | |
| --- | --- | --- | --- |
| Belt Width | Axial Comp | Axial Ext | Lat Mov |
| 12″ |  4.5″ | 2.5″ | 2.5″ |
| 18″ | 6″ | 3″ | 4″ |
| 24″ | 6″ | 4″ | 5″ |