Single Ply Bellows are suitable for all applications that have relatively small movements
Single-ply Bellows are made up of a single tube (ply) of sheet metal of a defined thickness. They are typically suitable for applications having relatively small thermal movements and vibrations. Single-ply bellows are specifically designed for low pressure, high spring rate applications (150 PSIG at 1000 deg. F) where the single thin sheet metal is sufficient to withstand the design criteria. The fatigue cycle life of single-ply bellows is low in comparison to multi-ply bellows of similar overall ply thickness due to their higher spring rate. Bellows Systems single-ply bellows elements provide superior fatigue life and movement capability compared to flexible hose (flex-hose) connectors.
Single-ply metal bellows used in Bellows Systems standard Expansion Joints are made in all possible lengths and pipe sizes from 0.875" in diameter and up. All the Single Ply metal bellows manufactured by Bellows Systems are in accordance with the Expansion Joint Manufacturers Association (EJMA) guidelines.
With Bellows Systems, making custom Single-ply Bellows is never a problem. Our flexible manufacturing process has the ability to vary the bellows pitch, ply thickness, and other parameters to optimize the bellows performance for cycle life. Bellows Systems employs AWS B2.1 certified TIG Welders for custom bellows and AWS D17.1 certified GTAW weld operators for all aerospace bellows.
Bellows Systems single-ply bellows products include Koppermann type hydro-formed bellows. The standard bellows material for hydro-formed single ply bellows is 304SS.
Call us today or email us at sales@bellows-systems.com to find out more about our single-ply bellows products.
Bellows Systems has experience in manufacturing Single-ply Bellows in a wide range of material including 
Austenitic stainless steels

(ASTM A240, Ty. 304 SS, 321 SS, 304L SS, 347 SS, 310 SS, 316 SS, 316L SS) 

Nickel alloys

(Inconel 600, Inconel 601, Inconel 625, Incoloy 800, Incoloy 800H, Incoloy 825, Hastelloy C-276, Nickel 200, Monel 400, AL-6XN), 

Titanium,

 

Tantalum,
Copper

and more…

Our standard bellows material is

321 SS.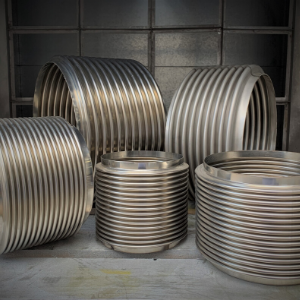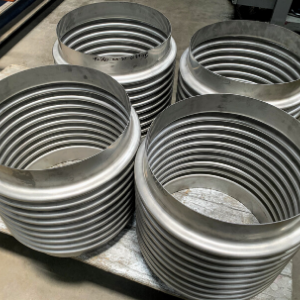 Looking for high quality Single-Ply Bellows with a quick turnaround? Bellows System can deliver.