PRODUCTS | EXPANSION JOINTS
Universal Expansion Joint
A Universal Type Expansion Joint is one which contains two bellows with a connecting pipe between them. It is usually furnished with limit rods or full thrust tie rods, depending upon the service conditions. Tie rods or limit rods stabilize the center pipe connection and distribute movement evenly between bellows. Tie rods are required where it is necessary to absorb full pressure thrust and other externally applied loads.
Universal Expansion Joints are normally designed to absorb any combination of axial and lateral movement and angular rotation in multi-plane piping arrangements. They are extremely well suited to the absorption of large amounts of lateral displacement. The magnitude of the lateral displacement can be varied considerably because any increase in the length of the center pipe nipple produces a corresponding increase in allowable lateral deflection. In installations involving large amounts of thermal change, where there is a change in elevation of the piping or where offsets exist, it is frequently possible to install Universal Type Expansion Joints in the offset or drop leg, which will absorb considerably more movement laterally than can be absorbed in compression by standard units. Installation of a Universal Expansion Joint in such instances will usually result in a considerably reduced construction cost.
Universal Expansion Joints are usually constructed with either two sets of short tie rods, one set over each bellows, or with overall tie rods. A unit with the two sets of short rods is designed primarily to limit movement and stabilize the connecting pipe section. A unit with overall tie rods is designed to absorb full pressure thrust, to stabilize the connecting pipe section, and to absorb all external loads which are present, such as wind loads and weight of center pipe nipple where unit is exceptionally long.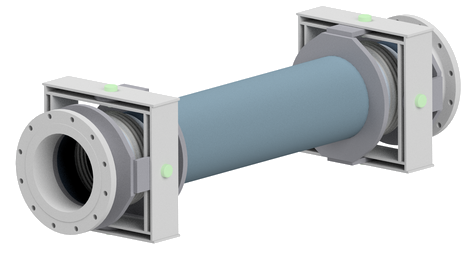 Universal Expansion Joint










BELOW ARE MAXIMUM ALLOWABLE LATERAL MOVEMENT FOR UNIVERSAL EXPANSION JOINTS
Size 2-1/2
| Active Length | 1+1 Corr | 2+2 Corr | 3+3 Corr | 4+4 Corr | 5+5 Corr |
| --- | --- | --- | --- | --- | --- |
| 3 | 0.11 | - | - | - | - |
| 4 | 0.18 | - | - | - | - |
| 5 | 0.27 | - | - | - | - |
| 0 | 0.3 | 0.43 | - | - | - |
| 7 | 0.45 | 0.57 | - | - | - |
| 8 | 0.54 | .73- | - | - | |
| 9 | 0.04 | 0.9 | 0.9 | - | - |
| 10 | 0.73 | 1.07 | 1.17 | - | - |
| 11 | 0.83 | 1.25 | 1.4 | 1.43 | - |
| 12 | 0.92 | 1.42 | 1.05 | 1.7 | - |
| 13 | 1.01 | 1 | 1.9 | 1.99 | - |
| 14 | 1.11 | 1.8 | 2.1 | 2.29 | 2.32 |
| 15 | 1.21 | 1.94 | 2.41 | 2.59 | 2 |
| 10 | 1.31 | 2.17 | 2.07 | 2.93 | 3.01 |
| 17 | 1.4 | 2.3 | 2.95 | 3.25 | 3.38 |
| 18 | 1.49 | 2.54 | 3.2 | 3.59 | 3.77 |
| 19 | 1.59 | 2.73 | 3.48 | 3.93 | 4.17 |
| 20 | 1.08 | 2.93 | 3.75 | 4.29 | 4.57 |
| 21 | 1.79 | 3.1 | 4.05 | 4.02 | 5 |
| 22 | 1.88 | 3.3 | 4.29 | 4.99 | 5.39 |
| 23 | 1.97 | 3.47 | 4.57 | 5.34 | 5.83 |
| 24 | 2.08 | 3.03 | 4.89 | 5.08 | 0.28 |
| 25 | 2.18 | 3.8 | 5.14 | 0.09 | 0.7 |
| 20 | 2.27 | 4.05 | 5.43 | 0.45 | 7.12 |
| 27 | 2.3 | 4.2 | 5.72 | 0.77 | 7.55 |
| 28 | 2.47 | 4.44 | 5.97 | 7.2 | 8 |
| 29 | 2.57 | 4 | 0.28 | 7.55 | 8.5 |
| 30 | 2 | 4.83 | 0.59 | 7.9 | 8.88 |
| 31 | 2.75 | 5.01 | 0.84 | 8.29 | 9.34 |
| 32 | 2.85 | 5.24 | 7.1 | 8.09 | 9.81 |
| 33 | 2.94 | 5.42 | 7.42 | 9.02 | 10.28 |
| 34 | 3.03 | 5 | 7.07 | 9.43 | 10.7 |
| 35 | 3.13 | 5.77 | 8 | 9.7 | 11.25 |
| 30 | 3.25 | 5.95 | 8.25 | 10.17 | 11.05 |
| 37 | 3.34 | 0.19 | 8.52 | 10.51 | 12.15 |
| 38 | 3.44 | 0.37 | 8.85 | 10.93 | 12.05 |
| 39 | 3.53 | 0.55 | 9.14 | 11.27 | 13 |
| 40 | 3.02 | 0.73 | 9.4 | 11.71 | 13.58 |
| 41 | 3.72 | 0.91 | 9.72 | 12.05 | 13.99 |
| 42 | 3.81 | 7.1 | 9.99 | 12.39 | 14.52 |
| 43 | 3.91 | 7.34 | 10.34 | 12.84 | 14.94 |
| 44 | 4 | 7.52 | 10.01 | 13.17 | 15.35 |
| 45 | 4.09 | 7.7 | 10.88 | 13.52 | 15.9 |
| 40 | 4.23 | 7.89 | 11.14 | 13.8 | 10.31 |
| 47 | 4.32 | 8.15 | 11.41 | 14.33 | 10.87 |
| 48 | 4.42 | 8.33 | 11.78 | 14.08 | 17.3 |
| 49 | 4.51 | 8.51 | 12.05 | 15.03 | 17.72 |
| 50 | 4.01 | 8.7 | 12.32 | 15.37 | 18.29 |
| 51 | 4.7 | 8.88 | 12.59 | 18.88 | 18.72 |
| 52 | 4.8 | 9.08 | 12.85 | 16.2 | 19.14 |
| 53 | 4.88 | 9.25 | 13.12 | 18.7 | 19.74 |
| 54 | 4.98 | 9.44 | 13.39 | 17.05 | 20.17 |
| 55 | 5.07 | 9.71 | 13.79 | 17.41 | 20.59 |
| 58 | 5.17 | 9.9 | 14.08 | 17.78 | 21.02 |
| 57 | 5.27 | 10.08 | 14.33 | 18.11 | 21.84 |
| 58 | 5.37 | 10.27 | 14.8 | 18.83 | 22.07 |
| 59 | 5.48 | 10.45 | 14.87 | 18.98 | 22.5 |
| 80 | 5.55 | 10.84 | 15.14 | 19.34 | 22.93 |
| 81 | 5.85 | 10.83 | 15.42 | 19.89 | 23.87 |
| 82 | 5.74 | 11.01 | 18.83 | 20.04 | 24.01 |
| 83 | 5.84 | 11.2 | 18.1 | 20.4 | 24.45 |
| 84 | 5.99 | 11.38 | 18.38 | 20.95 | 24.88 |
| 85 | 8.09 | 11.57 | 18.85 | 21.3 | 25.31 |
| 88 | 8.18 | 11.78 | 18.93 | 21.88 | 25.98 |
| 87 | 8.28 | 11.94 | 17.2 | 22.02 | 28.42 |
| 88 | 8.37 | 12.13 | 17.47 | 22.38 | 28.88 |
| 89 | 8.47 | 12.31 | 17.75 | 22.74 | 27.3 |
| 70 | 8.57 | 12.5 | 18.02 | 23.09 | 27.75 |
| 71 | 8.88 | 12.88 | 18.48 | 28.45 | 28.48 |
| 72 | 6.76 | 12.99 | 18.74 | 23.81 | 28.88 |
| 73 | 8.85 | 13.18 | 19.02 | 24.39 | 29.33 |
| 74 | 8.95 | 13.37 | 19.29 | 24.75 | 29.78 |
| 75 | 7.05 | 13.58 | 19.57 | 25.1 | 30.2 |
| 78 | 7.14 | 13.74 | 19.84 | 25.48 | 30.85 |
| 77 | 7.24 | 13.93 | 20.12 | 25.83 | 31.1 |
| 78 | 7.33 | 14.12 | 20.4 | 28.2 | 31.58 |
| 79 | 7.43 | 14.31 | 20.87 | 28.85 | 31.98 |
| 80 | 7.52 | 14.49 | 20.95 | 28.93 | 32.73 |
| 81 | 7.82 | 14.88 | 21.23 | 27.28 | 33.18 |
| 82 | 7.71 | 14.87 | 21.8 | 27.85 | 33.83 |
| 83 | 7.81 | 15.08 | 21.99 | 28.28 | 34.08 |
| 84 | 7.9 | 15.28 | 22.28 | 28.83 | 34.53 |
| 85 | 8 | 15.43 | 22.54 | 29 | 34.98 |
| 88 | 8.09 | 15.82 | 22.83 | 29.38 | 35.4 |
| 87 | 8.19 | 15.81 | 23.1 | 29.73 | 35.85 |
| 88 | 8.29 | 18 | 23.38 | 30.1 | 38.3 |
| 89 | 8.38 | 18.18 | 23.88 | 30.45 | 36.75 |
| 90 | 8.48 | 18.37 | 23.94 | 30.83 | 37.2 |
| 91 | 8.57 | 18.72 | 24.22 | 31.18 | 33 |
| 92 | 8.87 | 18.91 | 24.49 | 31.55 | 88.45 |
| 93 | 8.77 | 17.1 | 24.78 | 31.9 | 38.9 |
| 94 | 8.88 | 17.29 | 25.05 | 32.58 | 39.35 |
| 95 | 8.98 | 17.48 | 25.33 | 32.98 | 39.3 |
| 96 | 9.05 | 17.87 | 25.8 | 33.33 | 40.25 |
| 97 | 9.15 | 17.85 | 25.9 | 33.88 | 40.7 |
| 98 | 9.25 | 18.04 | 26.18 | 34.05 | 41.15 |
| 99 | 9.34 | 18.24 | 28.45 | 34.43 | 41.6 |
| 100 | 9.44 | 18.43 | 28.73 | 34.8 | 42.08 |
Below are MAXIMUM ALLOWABLE LATERAL MOVEMENT FOR UNIVERSAL EXPANSION JOINTS
Size 3
| Active Length | 1+1 Corr | 2+2 Corr | 3+3 Corr | 4+4 Corr | 5+5 Corr |
| --- | --- | --- | --- | --- | --- |
| 3 | 0.09 | - | - | - | - |
| 4 | 0.16 | - | - | - | - |
| 5 | 0.23 | - | - | - | - |
| 6 | 0.31 | 0.36 | - | - | - |
| 7 | 0.39 | 0.48 | - | - | - |
| 3 | 0.48 | 0.62 | - | - | - |
| 9 | 0.56 | 0.77 | 0.3 | - | - |
| 10 | 0.65 | 0.93 | 0.99 | - | - |
| 11 | 0.74 | 1.1 | 1.19 | - | - |
| 12 | 0.32 | 1.25 | 1.39 | 1.43 | - |
| 13 | 0.91 | 1.41 | 1.62 | 1.68 | - |
| 14 | 1 | 1.57 | 1.84 | 1.93 | - |
| 15 | 1.03 | 1.74 | 2.08 | 2.22 | 2.23 |
| 16 | 1.18 | 1.9 | 2.32 | 2.48 | 2.55 |
| 17 | 1.26 | 2.03 | 2.56 | 2.79 | 2.87 |
| 18 | 1.35 | 2.25 | 2.8 | 3.03 | 3.19 |
| 19 | 1.43 | 2.42 | 3.06 | 3.39 | 3.54 |
| 20 | 1.53 | 2.59 | 3.29 | 3.7 | 3.88 |
| 21 | 1.61 | 2.77 | 3.53 | 4.03 | 4.27 |
| 22 | 1.69 | 2.95 | 3.73 | 4.33 | 4.62 |
| 23 | 1.79 | 3.11 | 4.06 | 4.67 | 5.01 |
| 24 | 1.88 | 3.29 | 4.23 | 4.98 | 5.37 |
| 25 | 1.96 | 3.45 | 4.54 | 5.3 | 5.78 |
| 26 | 2.06 | 3.63 | 4.3 | 5.63 | 6.16 |
| 27 | 2.15 | 3.79 | 5.06 | 5.95 | 6.59 |
| 23 | 2.23 | 3.99 | 5.33 | 6.23 | 6.98 |
| 29 | 2.32 | 4.18 | 5.56 | 6.63 | 7.33 |
| 30 | 2.43 | 4.34 | 5.84 | 6.97 | 7.78 |
| 31 | 2.51 | 4.5 | 6.12 | 7.32 | 3.19 |
| 32 | 2.59 | 4.71 | 6.35 | 7.61 | 8.61 |
| 33 | 2.68 | 4.87 | 6.64 | 7.97 | 9.03 |
| 34 | 2.76 | 5.03 | 6.37 | 8.33 | 9.46 |
| 35 | 2.85 | 5.24 | 7.17 | 3.71 | 9.82 |
| 36 | 2.93 | 5.41 | 7.4 | 9 | 10.26 |
| 37 | 3.02 | 5.57 | 7.64 | 9.38 | 10.7 |
| 33 | 3.1 | 5.73 | 7.94 | 9.68 | 11.07 |
| 39 | 3.22 | 5.9 | 8.18 | 10.07 | 11.52 |
| 40 | 3.31 | 6.12 | 8.42 | 10.38 | 11.89 |
| 41 | 3.39 | 6.28 | 8.65 | 10.78 | 12.35 |
| 42 | 3.48 | 6.45 | 8.97 | 11.03 | 12.83 |
| 43 | 3.56 | 6.61 | 9.21 | 11.39 | 13.2 |
| 44 | 3.65 | 6.78 | 9.53 | 11.8 | 13.69 |
| 45 | 3.73 | 7.01 | 9.77 | 12.11 | 14.06 |
| 46 | 3.82 | 7.18 | 10.01 | 12.43 | 14.56 |
| 47 | 3.91 | 7.34 | 10.35 | 12.84 | 14.94 |
| 48 | 3.99 | 7.51 | 10.59 | 13.16 | 15.32 |
| 49 | 4.08 | 7.68 | 10.33 | 13.48 | 15.88 |
| 50 | 4.2 | 7.34 | 11.08 | 13.91 | 16.26 |
| 51 | 4.29 | 8.08 | 11.33 | 14.23 | 16.73 |
| 52 | 4.38 | 8.25 | 11.57 | 14.54 | 17.12 |
| 53 | 4.47 | 8.43 | 11.92 | 14.99 | 17.5 |
| 54 | 4.55 | 8.59 | 12.17 | 15.31 | 18.05 |
| 55 | 4.64 | 8.76 | 12.41 | 15.63 | 18.43 |
| 56 | 4.72 | 8.93 | 12.66 | 15.94 | 18.82 |
| 57 | 4.81 | 9.1 | 12.9 | 16.41 | 19.21 |
| 58 | 4.9 | 9.26 | 13.15 | 16.73 | 19.77 |
| 59 | 4.99 | 9.43 | 13.39 | 17.05 | 20.16 |
| 60 | 5.07 | 9.69 | 13.76 | 17.38 | 20.55 |
| 61 | 5.16 | 9.87 | 14.01 | 17.7 | 20.94 |
| 62 | 5.25 | 10.03 | 14.26 | 18.02 | 21.52 |
| 63 | 5.33 | 10.21 | 14.51 | 18.51 | 21.92 |
| 64 | 5.42 | 10.38 | 14.76 | 18.83 | 22.31 |
| 65 | 5.5 | 10.54 | 15.01 | 19.16 | 22.71 |
| 66 | 5.59 | 10.72 | 15.25 | 19.48 | 23.31 |
| 67 | 5.68 | 10.88 | 15.5 | 19.8 | 23.71 |
| 68 | 5.76 | 11.05 | 15.9 | 20.13 | 24.11 |
| 69 | 5.91 | 11.23 | 16.15 | 20.46 | 24.5 |
| 70 | 6 | 11.39 | 16.4 | 20.97 | 24.9 |
| 71 | 6.08 | 11.56 | 16.65 | 21.3 | 25.3 |
| 72 | 6.17 | 11.74 | 16.9 | 21.63 | 25.93 |
| 73 | 6.26 | 11.91 | 17.15 | 21.95 | 26.33 |
| 74 | 6.35 | 12.08 | 17.4 | 22.28 | 26.73 |
| 75 | 6.43 | 12.25 | 17.65 | 22.61 | 27.14 |
| 76 | 6.52 | 12.42 | 17.9 | 22.94 | 27.54 |
| 77 | 6.61 | 12.58 | 18.32 | 23.26 | 27.94 |
| 78 | 6.7 | 12.88 | 18.57 | 23.59 | 28.6 |
| 79 | 6.78 | 13.05 | 18.83 | 23.92 | 29.01 |
| 80 | 6.87 | 13.23 | 19.08 | 24.48 | 29.41 |
| 81 | 6.96 | 13.39 | 19.33 | 24.8 | 29.82 |
| 82 | 7.04 | 13.56 | 19.58 | 25.13 | 30.23 |
| 83 | 7.13 | 13.74 | 19.83 | 25.47 | 30.63 |
| 84 | 7.22 | 13.91 | 20.09 | 25.79 | 31.04 |
| 85 | 7.31 | 14.08 | 20.34 | 26.13 | 31.44 |
| 86 | 7.4 | 14.25 | 20.59 | 26.46 | 31.84 |
| 87 | 7.48 | 14.43 | 20.85 | 26.79 | 32.56 |
| 88 | 7.57 | 14.9 | 21.1 | 27.12 | 32.97 |
| 89 | 7.66 | 14.77 | 21.35 | 27.45 | 33.38 |
| 90 | 7.75 | 14.94 | 21.81 | 28.04 | 33.78 |
| 91 | 7.83 | 15.11 | 22.07 | 28.38 | 34.19 |
| 92 | 7.93 | 15.28 | 22.32 | 28.71 | 34.59 |
| 93 | 8.01 | 15.46 | 22.58 | 29.04 | 35 |
| 94 | 8.1 | 15.63 | 22.83 | 29.37 | 35.41 |
| 95 | 8.18 | 15.79 | 23.08 | 29.71 | 35.82 |
| 96 | 8.27 | 15.97 | 23.34 | 30.04 | 36.22 |
| 97 | 8.36 | 16.14 | 23.6 | 30.38 | 36.66 |
| 98 | 8.45 | 16.31 | 23.85 | 30.71 | 37.06 |
| 99 | 8.53 | 16.64 | 24.11 | 31.04 | 37.81 |
| 100 | 8.62 | 16.82 | 24.36 | 31.38 | 38.22 |
Below are MAXIMUM ALLOWABLE LATERAL MOVEMENT FOR UNIVERSAL EXPANSION JOINTS
Size 4
| Active Length | 1+1 Corr | 2+2 Corr | 3+3 Corr | 4+4 Corr | 5+5 Corr |
| --- | --- | --- | --- | --- | --- |
| 3 | 0.08 | - | - | - | - |
| 4 | 0.13 | - | - | - | - |
| 5 | 0.2 | - | - | - | - |
| 6 | 0.27 | 0.31 | - | - | - |
| 7 | 0.34 | 0.42 | - | - | - |
| 8 | 0.42 | 0.54 | - | - | - |
| 9 | 0.49 | 0.68 | 0.71 | - | - |
| 10 | 0.57 | 0.81 | 0.87 | - | - |
| 11 | 0.65 | 0.95 | 1.04 | - | - |
| 12 | 0.72 | 1.09 | 1.22 | 1.25 | - |
| 13 | 0.79 | 1.23 | 1.41 | 1.47 | - |
| 14 | 0.87 | 1.38 | 1.61 | 1.69 | - |
| 15 | 0.95 | 1.53 | 1.82 | 1.94 | 1.95 |
| 16 | 1.03 | 1.67 | 2.03 | 2.17 | 2.23 |
| 17 | 1.1 | 1.82 | 2.24 | 2.44 | 2.51 |
| 18 | 1.18 | 1.97 | 2.45 | 2.7 | 2.79 |
| 19 | 1.25 | 2.12 | 2.68 | 2.97 | 3.1 |
| 20 | 1.34 | 2.27 | 2.88 | 3.24 | 3.39 |
| 21 | 1.41 | 2.43 | 3.09 | 3.52 | 3.74 |
| 22 | 1.48 | 2.58 | 3.31 | 3.79 | 4.04 |
| 23 | 1.57 | 2.72 | 3.55 | 4.09 | 4.39 |
| 24 | 1.64 | 2.88 | 3.75 | 4.36 | 4.7 |
| 25 | 1.72 | 3.02 | 3.97 | 4.64 | 5.06 |
| 26 | 1.81 | 3.18 | 4.2 | 4.92 | 5.39 |
| 27 | 1.88 | 3.32 | 4.43 | 5.05 | 5.77 |
| 28 | 1.95 | 3.49 | 4.67 | 5.5 | 6.11 |
| 29 | 2.03 | 3.66 | 4.87 | 5.8 | 6.46 |
| 30 | 2.12 | 3.8 | 5.11 | 6.1 | 6.81 |
| 31 | 2.19 | 3.94 | 5.36 | 6.4 | 7.17 |
| 32 | 2.27 | 4.12 | 5.56 | 6.66 | 7.53 |
| 33 | 2.34 | 4.26 | 5.81 | 6.97 | 7.91 |
| 34 | 2.42 | 4.4 | 6.01 | 7.29 | 8.28 |
| 35 | 2.49 | 4.59 | 6.27 | 7.62 | 8.59 |
| 36 | 2.57 | 4.73 | 6.48 | 7.88 | 8.98 |
| 37 | 2.64 | 4.88 | 6.68 | 8.21 | 9.37 |
| 38 | 2.72 | 5.02 | 6.95 | 8.47 | 9.69 |
| 39 | 2.82 | 5.16 | 7.13 | 8.81 | 10.09 |
| 40 | 2.89 | 5.35 | 7.36 | 9.08 | 10.41 |
| 41 | 2.97 | 5.5 | 7.57 | 9.43 | 10.81 |
| 42 | 3.04 | 5.64 | 7.85 | 9.7 | 11.24 |
| 43 | 3.12 | 5.78 | 8.06 | 9.97 | 11.56 |
| 44 | 3.19 | 5.93 | 8.34 | 10.33 | 11.98 |
| 45 | 3.27 | 6.13 | 8.55 | 10.6 | 12.31 |
| 46 | 3.34 | 6.28 | 8.76 | 10.87 | 12.75 |
| 47 | 3.42 | 6.43 | 9.06 | 11.24 | 13.08 |
| 48 | 3.49 | 6.57 | 9.27 | 11.51 | 13.41 |
| 49 | 3.57 | 6.72 | 9.48 | 11.79 | 13.9 |
| 50 | 3.68 | 6.86 | 9.7 | 12.17 | 14.23 |
| 51 | 3.76 | 7.08 | 9.91 | 12.45 | 14.65 |
| 52 | 3.83 | 7.22 | 10.12 | 12.72 | 14.98 |
| 53 | 3.91 | 7.37 | 10.43 | 13.11 | 15.32 |
| 54 | 3.98 | 7.52 | 10.64 | 13.39 | 15.8 |
| 55 | 4.06 | 7.67 | 10.86 | 13.67 | 16.13 |
| 56 | 4.13 | 7.81 | 11.08 | 13.95 | 16.47 |
| 57 | 4.21 | 7.96 | 11.29 | 14.36 | 16.81 |
| 58 | 4.28 | 8.11 | 11.5 | 14.64 | 17.31 |
| 59 | 4.36 | 8.25 | 11.72 | 14.92 | 17.65 |
| 60 | 4.44 | 8.48 | 12.04 | 15.2 | 17.99 |
| 61 | 4.51 | 8.63 | 12.26 | 15.48 | 18.33 |
| 62 | 4.59 | 8.78 | 12.48 | 15.77 | 18.84 |
| 63 | 4.67 | 8.93 | 12.7 | 16.19 | 19.19 |
| 64 | 4.74 | 9.08 | 12.92 | 16.48 | 19.53 |
| 65 | 4.82 | 9.23 | 13.13 | 16.76 | 19.88 |
| 66 | 4.89 | 9.38 | 13.35 | 17.05 | 20.4 |
| 67 | 4.97 | 9.53 | 13.56 | 17.33 | 20.75 |
| 68 | 5.04 | 9.67 | 13.91 | 17.61 | 21.1 |
| 69 | 5.17 | 9.82 | 14.13 | 17.9 | 21.45 |
| 70 | 5.25 | 9.97 | 14.35 | 18.35 | 21.8 |
| 71 | 5.32 | 10.12 | 14.57 | 18.64 | 22.15 |
| 72 | 5.4 | 10.27 | 14.78 | 18.92 | 22.7 |
| 73 | 5.48 | 10.39 | 15 | 19.21 | 23.05 |
| 74 | 5.56 | 10.57 | 15.22 | 19.5 | 23.4 |
| 75 | 5.63 | 10.72 | 15.44 | 19.78 | 23.75 |
| 76 | 5.71 | 10.86 | 15.66 | 20.07 | 24.11 |
| 77 | 5.78 | 11.01 | 16.03 | 20.36 | 24.46 |
| 78 | 5.86 | 11.27 | 16.25 | 20.64 | 25.03 |
| 79 | 5.94 | 11.42 | 16.47 | 20.93 | 25.39 |
| 80 | 6.01 | 11.57 | 16.7 | 21.42 | 25.75 |
| 81 | 6.09 | 11.72 | 16.92 | 21.7 | 26.1 |
| 82 | 6.17 | 11.87 | 17.14 | 21.99 | 26.46 |
| 83 | 6.24 | 12.02 | 17.36 | 22.28 | 26.81 |
| 84 | 6.32 | 12.17 | 17.58 | 22.57 | 27.17 |
| 85 | 6.39 | 12.32 | 17.8 | 22.86 | 27.52 |
| 86 | 6.47 | 12.47 | 18.02 | 23.15 | 27.88 |
| 87 | 6.54 | 12.62 | 18.24 | 23.44 | 28.49 |
| 88 | 6.63 | 12.77 | 18.46 | 23.73 | 28.85 |
| 89 | 6.7 | 12.92 | 18.68 | 24.02 | 29.21 |
| 90 | 6.78 | 13.07 | 19.09 | 24.53 | 29.57 |
| 91 | 6.86 | 13.22 | 19.31 | 24.83 | 29.93 |
| 92 | 6.93 | 13.37 | 19.53 | 25.12 | 30.28 |
| 93 | 7.01 | 13.53 | 19.75 | 25.41 | 30.64 |
| 94 | 7.09 | 13.67 | 19.98 | 25.7 | 31 |
| 95 | 7.16 | 13.82 | 20.2 | 26 | 31.38 |
| 96 | 7.24 | 13.97 | 20.43 | 26.28 | 31.72 |
| 97 | 7.32 | 14.12 | 20.65 | 26.58 | 32.06 |
| 98 | 7.39 | 14.28 | 20.87 | 26.87 | 32.44 |
| 99 | 7.47 | 14.56 | 21.09 | 27.16 | 33.09 |
| 100 | 7.54 | 14.72 | 21.32 | 27.45 | 33.47 |
Below are MAXIMUM ALLOWABLE LATERAL MOVEMENT FOR UNIVERSAL EXPANSION JOINTS
Size 5
| Active Length | 1+1 Corr | 2+2 Corr | 3+3 Corr | 4+4 Corr | 5+5 Corr |
| --- | --- | --- | --- | --- | --- |
| 3 | 0.07 | - | - | - | - |
| 4 | 0.12 | - | - | - | - |
| 5 | 0.18 | - | - | - | - |
| 6 | 0.24 | 0.28 | - | - | - |
| 7 | 0.31 | 0.38 | - | - | - |
| 8 | 0.37 | 0.48 | - | - | - |
| 9 | 0.44 | 0.6 | 0.63 | - | - |
| 10 | 0.5 | 0.72 | 0.77 | - | - |
| 11 | 0.58 | 0.84 | 0.93 | - | - |
| 12 | 0.64 | 0.97 | 1.08 | 1.11 | - |
| 13 | 0.71 | 1.09 | 1.26 | 1.31 | - |
| 14 | 0.78 | 1.22 | 1.43 | 1.5 | - |
| 15 | 0.84 | 1.36 | 1.62 | 1.73 | 1.74 |
| 16 | 0.92 | 1.48 | 1.8 | 1.93 | 1.98 |
| 17 | 0.98 | 1.55 | 1.99 | 2.17 | 2.23 |
| 18 | 1.05 | 1.75 | 2.18 | 2.4 | 2.48 |
| 19 | 1.12 | 1.88 | 2.38 | 2.63 | 2.75 |
| 20 | 1.19 | 2.02 | 2.56 | 2.88 | 3.02 |
| 21 | 1.25 | 2.16 | 2.75 | 3.16 | 3.33 |
| 22 | 1.32 | 2.29 | 2.94 | 3.37 | 3.59 |
| 23 | 1.4 | 2.42 | 3.16 | 3.63 | 3.9 |
| 24 | 1.46 | 2.56 | 3.33 | 3.88 | 4.18 |
| 25 | 1.53 | 2.68 | 3.53 | 4.13 | 4.5 |
| 26 | 1.61 | 2.83 | 3.73 | 4.38 | 4.79 |
| 27 | 1.67 | 2.95 | 3.94 | 4.63 | 5.13 |
| 28 | 1.74 | 3.1 | 4.15 | 4.89 | 5.43 |
| 29 | 1.8 | 3.25 | 4.33 | 5.15 | 5.74 |
| 30 | 1.88 | 3.38 | 4.54 | 5.42 | 6.06 |
| 31 | 1.95 | 3.5 | 4.76 | 5.69 | 0.38 |
| 32 | 2.02 | 3.66 | 4.94 | 5.92 | 6.7 |
| 33 | 2.08 | 3.79 | 5.16 | 6.2 | 7.03 |
| 34 | 2.15 | 3.91 | 5.34 | 6.48 | 7.36 |
| 35 | 2.22 | 4.08 | 5.57 | 6.77 | 7.64 |
| 36 | 2.28 | 4.21 | 5.76 | 7 | 7.98 |
| 37 | 2.35 | 4.33 | 5.94 | 7.3 | 8.33 |
| 38 | 2.41 | 4.46 | 6.18 | 7.53 | 8.61 |
| 39 | 2.5 | 4.59 | 6.33 | 7.83 | 8.97 |
| 40 | 2.57 | 4.76 | 6.54 | 8.07 | 9.25 |
| 41 | 2.64 | 4.88 | 6.73 | 8.38 | 9.61 |
| 42 | 2.7 | 5.01 | 6.98 | 8.62 | 9.95 |
| 43 | 2.77 | 5.14 | 7.16 | 8.86 | 10.27 |
| 44 | 2.84 | 5.28 | 7.41 | 9.18 | 10.65 |
| 45 | 2.9 | 5.45 | 7.57 | 9.42 | 10.94 |
| 46 | 2.97 | 5.58 | 7.79 | 9.66 | 11.33 |
| 47 | 3.04 | 5.71 | 8.05 | 9.99 | 11.62 |
| 48 | 3.11 | 5.84 | 8.24 | 10.23 | 11.92 |
| 49 | 3.17 | 5.97 | 8.43 | 10.48 | 12.35 |
| 50 | 3.27 | 6.1 | 8.62 | 10.82 | 12.65 |
| 51 | 3.34 | 6.29 | 8.81 | 11.06 | 13.02 |
| 52 | 3.4 | 6.42 | 9 | 11.31 | 13.32 |
| 53 | 3.47 | 6.55 | 9.27 | 11.66 | 13.62 |
| 54 | 3.54 | 6.68 | 9.46 | 11.91 | 14.04 |
| 55 | 3.61 | 6.81 | 9.65 | 12.15 | 14.34 |
| 56 | 3.68 | 6.94 | 9.84 | 12.4 | 14.64 |
| 57 | 3.74 | 7.08 | 10.03 | 12.76 | 14.94 |
| 58 | 3.81 | 7.21 | 10.23 | 13.01 | 15.38 |
| 59 | 3.88 | 7.34 | 10.42 | 13.2 | 15.69 |
| 60 | 3.94 | 7.54 | 10.71 | 13.58 | 15.99 |
| 61 | 4.01 | 7.68 | 10.9 | 13.76 | 16.29 |
| 62 | 4.08 | 7.81 | 11.09 | 14.01 | 16.75 |
| 63 | 4.15 | 7.94 | 11.28 | 14.39 | 17.06 |
| 64 | 4.22 | 8.07 | 11.48 | 14.65 | 17.36 |
| 65 | 4.28 | 8.2 | 11.67 | 14.9 | 17.67 |
| 66 | 4.35 | 8.33 | 11.87 | 15.15 | 18.13 |
| 67 | 4.42 | 8.47 | 12.06 | 15.4 | 18.45 |
| 68 | 4.48 | 8.6 | 12.37 | 15.66 | 18.76 |
| 69 | 4.6 | 8.73 | 12.56 | 15.91 | 19.07 |
| 70 | 4.66 | 8.86 | 12.75 | 16.31 | 19.38 |
| 71 | 4.73 | 8.99 | 12.95 | 16.57 | 19.69 |
| 72 | 4.8 | 9.13 | 13.14 | 16.82 | 20.18 |
| 73 | 4.87 | 9.26 | 13.34 | 17.07 | 20.49 |
| 74 | 4.94 | 9.39 | 13.53 | 17.33 | 20.8 |
| 75 | 5 | 9.53 | 13.73 | 17.58 | 21.12 |
| 76 | 5.07 | 9.66 | 13.92 | 17.84 | 21.43 |
| 77 | 5.14 | 9.79 | 14.25 | 18.09 | 21.74 |
| 78 | 5.21 | 10.02 | 14.44 | 18.35 | 22.25 |
| 79 | 5.28 | 10.15 | 14.64 | 18.6 | 22.57 |
| 80 | 5.34 | 10.28 | 14.84 | 19.03 | 22.88 |
| 81 | 5.41 | 10.42 | 15.03 | 19.29 | 23.2 |
| 82 | 5.48 | 10.55 | 15.23 | 19.55 | 23.52 |
| 83 | 5.55 | 10.68 | 15.43 | 19.81 | 23.83 |
| 84 | 5.62 | 10.82 | 15.63 | 20.06 | 24.15 |
| 85 | 5.68 | 10.95 | 15.82 | 20.32 | 24.46 |
| 86 | 5.75 | 11.08 | 16.02 | 20.58 | 24.78 |
| 87 | 5.82 | 11.22 | 16.22 | 20.83 | 25.33 |
| 88 | 5.89 | 11.35 | 16.41 | 21.09 | 25.64 |
| 89 | 5.96 | 11.49 | 16.61 | 21.35 | 25.96 |
| 90 | 6.03 | 11.62 | 16.97 | 21.81 | 26.28 |
| 91 | 6.09 | 11.75 | 17.16 | 22.07 | 26.6 |
| 92 | 6.16 | 11.88 | 17.36 | 22.35 | 26.92 |
| 93 | 6.23 | 12.02 | 17.56 | 22.59 | 27.23 |
| 94 | 6.3 | 12.15 | 17.76 | 22.84 | 27.56 |
| 95 | 6.37 | 12.28 | 17.95 | 23.11 | 27.88 |
| 96 | 6.43 | 12.42 | 18.16 | 23.37 | 28.19 |
| 97 | 6.5 | 12.55 | 18.35 | 23.63 | 28.51 |
| 98 | 6.57 | 12.69 | 18.55 | 23.88 | 28.83 |
| 99 | 6.64 | 12.94 | 18.75 | 24.14 | 29.42 |
| 100 | 6.71 | 13.08 | 18.95 | 24.41 | 29.74 |
Below are MAXIMUM ALLOWABLE LATERAL MOVEMENT FOR UNIVERSAL EXPANSION JOINTS
Size 6
| Active Length | 1+1 Corr | 2+2 Corr | 3+3 Corr | 4+4 Corr | 5+5 Corr |
| --- | --- | --- | --- | --- | --- |
| 5 | 0.17 | - | - | - | - |
| 6 | 0.24 | - | - | - | - |
| 7 | 0.31 | - | - | - | - |
| 8 | 0.39 | - | - | - | - |
| 9 | 0.42 | - | - | - | - |
| 10 | 0.56 | 0.67 | - | - | - |
| 11 | 0.64 | 0.8 | - | - | - |
| 12 | 0.72 | 0.93 | - | - | - |
| 13 | 0.81 | 1.09 | - | - | - |
| 14 | 0.9 | 1.26 | - | - | - |
| 15 | 0.98 | 1.41 | 1.5 | - | - |
| 16 | 1.07 | 1.57 | 1.7 | - | - |
| 17 | 1.16 | 1.73 | 1.92 | - | - |
| 18 | 1.24 | 1.88 | 2.11 | - | - |
| 19 | 1.34 | 2.06 | 2.35 | 2.47 | - |
| 20 | 1.41 | 2.21 | 2.57 | 2.66 | - |
| 21 | 1.51 | 2.4 | 2.81 | 2.92 | - |
| 22 | 1.6 | 3.56 | 3 | 3.2 | - |
| 23 | 1.68 | 2.75 | 3.27 | 3.47 | 3.55 |
| 24 | 1.78 | 2.92 | 3.53 | 3.75 | 3.85 |
| 25 | 1.86 | 3.07 | 3.76 | 4.05 | 4.15 |
| 26 | 1.94 | 3.25 | 3.97 | 4.34 | 4.48 |
| 27 | 2.04 | 3.43 | 4.24 | 4.62 | 4.81 |
| 28 | 2.13 | 3.61 | 4.52 | 4.95 | 5.16 |
| 29 | 2.21 | 3.77 | 4.73 | 5.29 | 5.5 |
| 30 | 2.31 | 3.95 | 4.98 | 5.59 | 5.85 |
| 31 | 2.4 | 4.11 | 5.23 | 5.84 | 6.25 |
| 32 | 2.48 | 4.3 | 5.49 | 6.24 | 6.62 |
| 33 | 2.56 | 4.5 | 5.71 | 6.54 | 6.99 |
| 34 | 2.67 | 4.65 | 5.98 | 6.87 | 7.36 |
| 35 | 2.75 | 4.81 | 6.25 | 7.19 | 7.8 |
| 36 | 2.84 | 4.97 | 6.52 | 7.53 | 8.12 |
| 37 | 2.92 | 5.13 | 6.73 | 7.8 | 8.51 |
| 38 | 3.01 | 5.33 | 7.03 | 8.21 | 8.91 |
| 39 | 3.12 | 5.49 | 7.25 | 8.5 | 9.31 |
| 40 | 3.2 | 5.65 | 7.54 | 8.85 | 9.72 |
| 41 | 3.29 | 5.86 | 7.76 | 9.2 | 10.13 |
| 42 | 3.37 | 6.08 | 8.06 | 9.49 | 10.55 |
| 43 | 3.46 | 6.24 | 8.28 | 9.86 | 10.9 |
| 44 | 3.54 | 6.4 | 8.58 | 10.15 | 11.32 |
| 45 | 3.66 | 6.56 | 8.82 | 10.52 | 11.76 |
| 46 | 3.75 | 6.72 | 9.13 | 10.41 | 12.11 |
| 47 | 3.83 | 6.95 | 9.36 | 11.2 | 12.56 |
| 48 | 3.92 | 7.11 | 9.68 | 11.49 | 18.01 |
| 49 | 4 | 7.27 | 9.91 | 11.89 | 13.36 |
| 50 | 4.09 | 7.44 | 10.14 | 12.19 | 13.82 |
| 51 | 4.18 | 7.6 | 10.38 | 12.59 | 14.3 |
| 52 | 4.26 | 7.84 | 10.72 | 12.89 | 14.65 |
| 53 | 4.35 | 8 | 10.94 | 13.29 | 15.01 |
| 54 | 4.43 | 8.24 | 11.18 | 18.6 | 15.5 |
| 55 | 4.52 | 8.41 | 11.42 | 14.02 | 15.86 |
| 56 | 4.6 | 8.58 | 11.65 | 14.32 | 16.35 |
| 57 | 4.69 | 8.74 | 12 | 14.63 | 16.72 |
| 58 | 4.78 | 8.91 | 12.23 | 14.93 | 17.23 |
| 59 | 4.91 | 9.07 | 12.47 | 15.37 | 17.59 |
| 60 | 5 | 9.24 | 12.71 | 15.67 | 17.96 |
| 61 | 5.08 | 9.41 | 12.95 | 15.98 | 18.48 |
| 62 | 5.17 | 9.57 | 13.32 | 16.43 | 18.85 |
| 63 | 5.25 | 9.74 | 13.55 | 16.74 | 19.38 |
| 64 | 5.34 | 9.91 | 13.79 | 17.05 | 19.76 |
| 65 | 5.48 | 10.07 | 14.15 | 17.51 | 20.13 |
| 66 | 5.51 | 10.24 | 14.4 | 17.82 | 20.68 |
| 67 | 5.6 | 10.41 | 14.69 | 18.14 | 21.06 |
| 68 | 5.68 | 10.67 | 14.88 | 18.45 | 21.44 |
| 69 | 5.77 | 10.84 | 15.13 | 18.76 | 22 |
| 70 | 5.86 | 11.01 | 15.51 | 19.24 | 22.38 |
| 71 | 5.94 | 11.18 | 15.75 | 19.56 | 22.76 |
| 72 | 6.03 | 11.34 | 16 | 19.87 | 23.14 |
| 73 | 6.12 | 11.51 | 16.25 | 20.19 | 23.52 |
| 74 | 6.2 | 11.68 | 16.49 | 20.5 | 24.11 |
| 75 | 6.35 | 11.85 | 16.74 | 20.82 | 24.49 |
| 76 | 6.49 | 12.02 | 16.98 | 21.32 | 24.88 |
| 77 | 6.52 | 12.3 | 17.26 | 21.64 | 25.48 |
| 78 | 6.61 | 12.47 | 17.47 | 21.96 | 25.86 |
| 79 | 6.7 | 12.64 | 17.88 | 22.28 | 26.25 |
| 80 | 6.79 | 12.81 | 18.12 | 22.6 | 26.64 |
| 81 | 6.87 | 12.98 | 18.37 | 22.91 | 27.26 |
| 82 | 6.96 | 13.15 | 18.62 | 23.23 | 27.65 |
| 83 | 7.05 | 13.32 | 18.87 | 23.74 | 28.04 |
| 84 | 7.14 | 13.49 | 19.11 | 24.06 | 28.43 |
| 85 | 7.23 | 13.66 | 19.36 | 24.38 | 28.83 |
| 86 | 7.31 | 13.82 | 19.61 | 24.7 | 29.22 |
| 87 | 7.4 | 14 | 19.85 | 25.27 | 29.87 |
| 88 | 7.49 | 14.16 | 20.1 | 25.59 | 30.26 |
| 89 | 7.57 | 14.34 | 20.35 | 25.92 | 30.65 |
| 90 | 7.66 | 14.64 | 20.79 | 26.24 | 31.05 |
| 91 | 7.75 | 14.81 | 21.04 | 26.56 | 31.45 |
| 92 | 7.84 | 14.98 | 21.29 | 26.89 | 31.84 |
| 93 | 7.92 | 15.15 | 21.54 | 27.46 | 32.52 |
| 94 | 8.01 | 15.33 | 21.78 | 27.79 | 32.92 |
| 95 | 8.1 | 15.5 | 22.04 | 28.12 | 33.32 |
| 96 | 8.18 | 15.67 | 22.28 | 28.44 | 33.76 |
| 97 | 8.27 | 15.84 | 22.54 | 28.77 | 34.11 |
| 98 | 8.36 | 16.01 | 22.78 | 29.1 | 34.51 |
| 99 | 8.45 | 16.18 | 23.04 | 29.42 | 35.22 |
| 100 | 8.53 | 16.35 | 23.78 | 29.75 | 35.62 |
Below are MAXIMUM ALLOWABLE LATERAL MOVEMENT FOR UNIVERSAL EXPANSION JOINTS
Size 8
| Active Length | 1+1 Corr | 2+2 Corr | 3+3 Corr | 4+4 Corr | 5+5 Corr |
| --- | --- | --- | --- | --- | --- |
| 5 | 0.14 | - | - | - | - |
| 6 | 0.2 | - | - | - | - |
| 7 | 0.27 | - | - | - | - |
| 8 | 0.33 | - | - | - | - |
| 9 | 0.4 | - | - | - | - |
| 10 | 0.47 | 0.57 | - | - | - |
| 11 | 0.54 | 0.68 | - | - | - |
| 12 | 0.61 | 0.8 | - | - | - |
| 13 | 0.69 | 0.92 | - | - | - |
| 14 | 0.76 | 1.07 | - | - | - |
| 15 | 0.83 | 1.2 | 1.27 | - | - |
| 16 | 0.91 | 1.33 | 1.44 | - | - |
| 17 | 0.98 | 1.47 | 1.63 | - | - |
| 18 | 1.06 | 1.6 | 1.79 | - | - |
| 19 | 1.13 | 1.74 | 1.99 | 2.05 | - |
| 20 | 1.2 | 1.88 | 2.18 | 2.26 | - |
| 21 | 1.28 | 2.03 | 2.38 | 2.47 | - |
| 22 | 1.36 | 2.17 | 2.55 | 2.72 | - |
| 23 | 1.43 | 2.33 | 2.77 | 2.94 | 3 |
| 24 | 1.51 | 2.48 | 2.99 | 3.18 | 3.26 |
| 25 | 1.58 | 2.66 | 3.19 | 3.44 | 3.52 |
| 26 | 1.65 | 2.76 | 3.36 | 3.68 | 3.8 |
| 27 | 1.73 | 2.91 | 3.59 | 3.95 | 4.08 |
| 28 | 1.8 | 3.06 | 3.83 | 4.2 | 4.37 |
| 29 | 1.87 | 3.19 | 4 | 4.48 | 4.67 |
| 30 | 1.96 | 3.35 | 4.22 | 4.74 | 4.96 |
| 31 | 2.03 | 3.48 | 4.44 | 4.95 | 5.3 |
| 32 | 2.1 | 3.65 | 4.66 | 5.27 | 5.61 |
| 33 | 2.17 | 3.81 | 4.84 | 5.55 | 5.92 |
| 34 | 2.26 | 3.95 | 5.07 | 5.82 | 6.24 |
| 35 | 2.33 | 4.08 | 5.3 | 6.1 | 6.6 |
| 36 | 2.41 | 4.21 | 5.53 | 6.38 | 6.89 |
| 37 | 2.48 | 4.35 | 5.7 | 0.62 | 7.21 |
| 38 | 2.55 | 4.52 | 5.95 | 6.96 | 7.55 |
| 39 | 2.64 | 4.65 | 6.15 | 7.2 | 7.89 |
| 40 | 2.72 | 4.79 | 6.34 | 7.45 | 8.24 |
| 41 | 2.79 | 4.97 | 6.58 | 7.8 | 8.59 |
| 42 | 2.86 | 5.15 | 6.83 | 8.05 | 8.94 |
| 43 | 2.93 | 5.29 | 7.02 | 8.36 | 9.24 |
| 44 | 3 | 5.42 | 7.28 | 8.6 | 9.6 |
| 45 | 3.1 | 5.59 | 7.47 | 8.92 | 9.97 |
| 46 | 3.18 | 5.7 | 7.74 | 9.24 | 10.27 |
| 47 | 3.25 | 5.89 | 7.93 | 9.5 | 10.64 |
| 48 | 3.32 | 6.03 | 8.2 | 9.74 | 11.03 |
| 49 | 3.39 | 6.17 | 8.3 | 10.08 | 11.32 |
| 50 | 3.47 | 6.3 | 8.6 | 10.33 | 11.72 |
| 51 | 3.54 | 6.44 | 8.8 | 10.67 | 12.12 |
| 52 | 3.81 | 6.64 | 9.08 | 10.92 | 12.42 |
| 53 | 3.69 | 6.78 | 9.28 | 11.27 | 12.73 |
| 54 | 3.76 | 6.99 | 9.48 | 11.53 | 13.14 |
| 55 | 3.83 | 7.13 | 9.68 | 11.88 | 13.44 |
| 56 | 3.9 | 7.27 | 9.88 | 12.37 | 13.86 |
| 57 | 3.98 | 7.41 | 10.17 | 12.4 | 14.17 |
| 58 | 4.05 | 7.55 | 10.37 | 12.86 | 14.6 |
| 59 | 4.16 | 7.69 | 10.57 | 13.03 | 14.91 |
| 60 | 4.24 | 7.83 | 10.77 | 13.29 | 15.23 |
| 61 | 4.31 | 7.97 | 10.98 | 13.55 | 15.66 |
| 62 | 4.38 | 8.12 | 11.28 | 13.93 | 15.98 |
| 83 | 4.45 | 8.26 | 11.48 | 14.19 | 16.43 |
| 64 | 4.53 | 8.4 | 11.69 | 14.45 | 16.75 |
| 65 | 4.6 | 8.54 | 12 | 14.84 | 17.07 |
| 66 | 4.67 | 8.68 | 12.2 | 15.11 | 17.53 |
| 67 | 4.75 | 8.82 | 12.41 | 15.37 | 17.85 |
| 68 | 4.82 | 9.05 | 12.61 | 15.64 | 18.17 |
| 89 | 4.89 | 9.19 | 12.82 | 15.9 | 18.65 |
| 70 | 4.97 | 9.33 | 13.14 | 16.31 | 18.97 |
| 71 | 5.04 | 9.47 | 13.35 | 16.58 | 19.29 |
| 72 | 5.11 | 9.62 | 13.56 | 16.84 | 19.61 |
| 73 | 5.19 | 9.76 | 13.77 | 17.11 | 19.94 |
| 74 | 5.26 | 9.9 | 13.98 | 17.38 | 20.43 |
| 75 | 5.39 | 10.04 | 14.19 | 17.65 | 20.76 |
| 76 | 5.46 | 10.19 | 14.39 | 18.07 | 21.08 |
| 77 | 5.53 | 10.43 | 14.6 | 18.34 | 21.6 |
| 78 | 5.61 | 10.57 | 14.81 | 18.61 | 21.92 |
| 79 | 5.68 | 10.71 | 15.15 | 18.88 | 22.25 |
| 80 | 5.75 | 10.86 | 15.36 | 19.15 | 22.58 |
| 81 | 5.83 | 11 | 15.57 | 19.42 | 23.11 |
| 82 | 5.9 | 11.15 | 15.78 | 19.69 | 23.44 |
| 83 | 5.98 | 11.29 | 15.99 | 20.12 | 23.77 |
| 84 | 6.05 | 11.43 | 16.2 | 20.39 | 24.1 |
| 85 | 6.12 | 11.58 | 16.41 | 20.67 | 24.43 |
| 86 | 6.2 | 11.72 | 16.62 | 20.94 | 24.76 |
| 87 | 6.27 | 11.88 | 16.83 | 21.42 | 25.32 |
| 88 | 6.35 | 12.01 | 17.04 | 21.69 | 25.65 |
| 89 | 6.42 | 12.15 | 17.25 | 21.97 | 25.98 |
| 90 | 8.49 | 12.41 | 17.82 | 22.24 | 26.32 |
| 91 | 6.57 | 12.55 | 17.83 | 22.52 | 26.65 |
| 92 | 6.64 | 12.7 | 18.04 | 22.79 | 26.98 |
| 93 | 6.71 | 12.84 | 18.26 | 23.27 | 27.56 |
| 94 | 6.79 | 12.99 | 18.47 | 23.55 | 27.9 |
| 95 | 6.86 | 13.14 | 18.88 | 23.83 | 28.24 |
| 96 | 6.94 | 13.28 | 18.89 | 24.11 | 28.57 |
| 97 | 7.01 | 13.43 | 19.1 | 24.38 | 28.91 |
| 98 | 7.08 | 13.57 | 19.31 | 24.66 | 29.25 |
| 99 | 7.16 | 13.72 | 19.53 | 24.94 | 29.85 |
| 100 | 7.23 | 13.88 | 19.74 | 25.21 | 30.19 |
Below are MAXIMUM ALLOWABLE LATERAL MOVEMENT FOR UNIVERSAL EXPANSION JOINTS
Size 10
| Active Length | 1+1 Corr | 2+2 Corr | 3+3 Corr | 4+4 Corr | 5+5 Corr |
| --- | --- | --- | --- | --- | --- |
| 5 | 0.12 | - | - | - | - |
| 6 | 0.17 | - | - | - | - |
| 7 | 0.23 | - | - | - | - |
| 8 | 0.29 | - | - | - | - |
| 9 | 0.35 | - | - | - | - |
| 10 | 0.41 | 0.49 | - | - | - |
| 11 | 0.47 | 0.59 | - | - | - |
| 12 | 0.53 | 0.69 | - | - | - |
| 13 | 0.59 | 0.79 | - | - | - |
| 14 | 0.66 | 0.92 | - | - | - |
| 15 | 0.72 | 1.03 | 1.09 | - | - |
| 16 | 0.78 | 1.15 | 1.24 | - | - |
| 17 | 0.84 | 1.26 | 1.4 | - | - |
| 18 | 0.91 | 1.38 | 1.54 | - | - |
| 19 | 0.97 | 1.5 | 1.76 | - | - |
| 20 | 1.03 | 1.62 | 1.88 | 1.94 | - |
| 21 | 1.1 | 1.75 | 2.05 | 2.13 | - |
| 22 | 1.17 | 1.87 | 2.19 | 2.34 | - |
| 23 | 1.23 | 2.01 | 2.39 | 2.53 | 2.59 |
| 24 | 1.3 | 2.13 | 2.57 | 2.73 | 2.81 |
| 25 | 1.36 | 2.24 | 2.74 | 2.96 | 3.03 |
| 26 | 1.42 | 2.37 | 2.89 | 3.16 | 3.27 |
| 27 | 1.49 | 2.5 | 3.09 | 3.4 | 3.51 |
| 28 | 1.55 | 2.64 | 3.29 | 3.61 | 3.76 |
| 29 | 1.61 | 2.75 | 3.45 | 3.86 | 4.02 |
| 30 | 1.69 | 2.89 | 3.63 | 4.08 | 4.27 |
| 31 | 1.75 | 3 | 3.82 | 4.25 | 4.56 |
| 32 | 1.81 | 3.14 | 4.01 | 4.54 | 4.83 |
| 33 | 1.87 | 3.28 | 4.17 | 4.77 | 5.1 |
| 34 | 1.95 | 3.4 | 4.36 | 5.01 | 5.37 |
| 35 | 2.01 | 3.51 | 4.56 | 5.25 | 5.69 |
| 36 | 2.07 | 3.63 | 4.76 | 5.49 | 5.93 |
| 37 | 2.13 | 3.74 | 4.91 | 5.69 | 6.21 |
| 38 | 2.19 | 3.89 | 5.13 | 5.99 | 6.5 |
| 39 | 2.28 | 4.01 | 5.24 | 6.2 | 6.79 |
| 40 | 2.34 | 4.12 | 5.5 | 6.45 | 7.09 |
| 41 | 2.4 | 4.28 | 5.66 | 6.72 | 7.39 |
| 42 | 2.46 | 4.43 | 5.88 | 6.93 | 7.7 |
| 43 | 2.52 | 4.55 | 6.05 | 7.2 | 7.95 |
| 44 | 2.58 | 4.67 | 6.27 | 7.41 | 8.26 |
| 45 | 2.67 | 4.79 | 6.43 | 7.68 | 8.58 |
| 46 | 2.73 | 4.91 | 6.66 | 7.96 | 8.8 |
| 47 | 2.8 | 5.07 | 6.83 | 8.17 | 9.16 |
| 48 | 2.86 | 5.19 | 7.06 | 8.39 | 9.49 |
| 49 | 2.92 | 5.31 | 7.23 | 8.77 | 9.75 |
| 50 | 2.98 | 5.43 | 7.4 | 8.89 | 10.08 |
| 51 | 3.05 | 5.54 | 7.57 | 9.18 | 10.43 |
| 52 | 3.11 | 5.72 | 7.81 | 9.4 | 10.69 |
| 53 | 3.17 | 5.84 | 7.98 | 9.7 | 10.95 |
| 54 | 3.23 | 6.01 | 8.16 | 9.92 | 11.31 |
| 55 | 3.3 | 6.13 | 8.33 | 10.23 | 11.57 |
| 56 | 3.36 | 6.26 | 8.5 | 10.45 | 11.93 |
| 57 | 3.42 | 6.38 | 8.75 | 10.67 | 12.2 |
| 58 | 3.48 | 6.5 | 8.92 | 10.89 | 12.57 |
| 59 | 3.58 | 6.62 | 9.09 | 11.21 | 12.83 |
| 60 | 3.64 | 6.74 | 9.27 | 11.43 | 13.1 |
| 61 | 3.71 | 6.86 | 9.45 | 11.66 | 13.48 |
| 62 | 3.77 | 6.98 | 9.71 | 11.99 | 13.75 |
| 63 | 3.83 | 7.11 | 9.88 | 12.21 | 14.14 |
| 64 | 3.9 | 7.23 | 10.06 | 12.44 | 14.41 |
| 65 | 3.96 | 7.35 | 10.33 | 12.78 | 14.69 |
| 66 | 4.02 | 7.47 | 10.5 | 13 | 15.09 |
| 67 | 4.09 | 7.59 | 10.68 | 13.23 | 15.36 |
| 68 | 4.15 | 7.79 | 10.86 | 13.46 | 15.63 |
| 69 | 4.21 | 7.91 | 11.03 | 13.69 | 16.05 |
| 70 | 4.27 | 8.03 | 11.31 | 14.04 | 16.33 |
| 71 | 4.34 | 8.15 | 11.49 | 14.27 | 16.6 |
| 72 | 4.4 | 8.28 | 11.67 | 14.5 | 16.88 |
| 73 | 4.46 | 8.4 | 11.85 | 14.73 | 17.16 |
| 74 | 4.53 | 8.52 | 12.03 | 14.96 | 17.58 |
| 75 | 4.63 | 8.64 | 12.21 | 15.19 | 17.87 |
| 76 | 4.7 | 8.77 | 12.39 | 15.55 | 18.15 |
| 77 | 4.76 | 8.97 | 12.57 | 15.79 | 18.59 |
| 78 | 4.83 | 9.1 | 12.74 | 16.02 | 18.87 |
| 79 | 4.89 | 9.21 | 13.04 | 16.25 | 19.15 |
| 80 | 4.95 | 9.34 | 13.22 | 16.48 | 19.43 |
| 81 | 5.02 | 9.47 | 13.4 | 16.71 | 19.89 |
| 82 | 5.08 | 9.59 | 13.58 | 16.95 | 20.17 |
| 83 | 5.14 | 9.71 | 13.76 | 17.32 | 20.46 |
| 84 | 5.21 | 9.84 | 13.94 | 17.55 | 20.74 |
| 85 | 5.27 | 9.96 | 14.12 | 17.79 | 21.03 |
| 86 | 5.33 | 10.08 | 14.3 | 18.02 | 21.31 |
| 87 | 5.4 | 10.21 | 14.48 | 18.43 | 21.79 |
| 88 | 5.46 | 10.33 | 14.66 | 18.67 | 22.07 |
| 89 | 5.52 | 10.46 | 14.85 | 18.91 | 22.36 |
| 90 | 5.59 | 10.68 | 15.17 | 19.14 | 22.65 |
| 91 | 5.65 | 10.81 | 15.35 | 19.38 | 22.94 |
| 92 | 5.72 | 10.93 | 15.53 | 19.61 | 23.22 |
| 93 | 5.78 | 11.05 | 15.71 | 20.03 | 23.72 |
| 94 | 5.84 | 11.18 | 15.89 | 20.27 | 24.01 |
| 95 | 5.91 | 11.31 | 16.08 | 20.51 | 24.3 |
| 96 | 5.97 | 11.43 | 16.26 | 20.75 | 24.59 |
| 97 | 6.03 | 11.56 | 16.44 | 20.98 | 24.88 |
| 98 | 6.1 | 11.68 | 16.62 | 21.22 | 25.17 |
| 99 | 6.16 | 11.81 | 16.8 | 21.46 | 25.69 |
| 100 | 6.23 | 11.93 | 16.99 | 21.7 | 25.98 |
Below are MAXIMUM ALLOWABLE LATERAL MOVEMENT FOR UNIVERSAL EXPANSION JOINTS
Size 12
| Active Length | 1+1 Corr | 2+2 Corr | 3+3 Corr | 4+4 Corr | 5+5 Corr |
| --- | --- | --- | --- | --- | --- |
| 5 | 0.11 | - | - | - | - |
| 6 | 0.15 | - | - | - | - |
| 7 | 0.2 | - | - | - | - |
| 8 | 0.25 | - | - | - | - |
| 9 | 0.31 | - | - | - | - |
| 10 | 0.36 | 0.43 | - | - | - |
| 11 | 0.41 | 0.52 | - | - | - |
| 12 | 0.47 | 0.61 | - | - | - |
| 13 | 0.52 | 0.7 | - | - | - |
| 14 | 0.58 | 0.81 | - | - | - |
| 15 | 0.63 | 0.91 | 0.97 | - | - |
| 16 | 0.69 | 1.01 | 1.1 | - | - |
| 17 | 0.75 | 1.12 | 1.24 | - | - |
| 18 | 0.8 | 1.22 | 1.36 | - | - |
| 19 | 0.86 | 1.33 | 1.51 | 1.56 | - |
| 20 | 0.91 | 1.43 | 1.66 | 1.71 | - |
| 21 | 0.97 | 1.55 | 1.81 | 1.88 | - |
| 22 | 1.03 | 1.65 | 1.94 | 2.07 | - |
| 23 | 1.09 | 1.78 | 2.11 | 2.24 | 2.29 |
| 24 | 1.15 | 1.89 | 2.28 | 2.42 | 2.48 |
| 25 | 1.2 | 1.98 | 2.43 | 2.62 | 2.68 |
| 26 | 1.25 | 2.1 | 2.56 | 2.8 | 2.89 |
| 27 | 1.32 | 2.21 | 2.73 | 3.01 | 3.11 |
| 28 | 1.37 | 2.33 | 2.91 | 3.19 | 3.33 |
| 29 | 1.43 | 2.43 | 3.05 | 3.41 | 3.55 |
| 30 | 1.49 | 2.55 | 3.21 | 3.61 | 3.78 |
| 31 | 1.55 | 2.65 | 3.38 | 3.81 | 4.03 |
| 32 | 1.6 | 2.78 | 3.54 | 4.01 | 4.27 |
| 33 | 1.65 | 2.9 | 3.68 | 4.22 | 4.51 |
| 34 | 1.72 | 3 | 3.86 | 4.43 | 4.75 |
| 35 | 1.78 | 3.1 | 74.03 | 4.64 | 5.03 |
| 36 | 1.83 | 3.21 | 4.21 | 4.85 | 5.24 |
| 37 | 1.89 | 3.31 | 4.34 | 5.03 | 5.49 |
| 38 | 1.93 | 3.44 | 4.53 | 5.3 | 5.74 |
| 39 | 2.01 | 3.54 | 4.68 | 5.48 | 6.01 |
| 40 | 2.07 | 3.65 | 4.86 | 5.71 | 6.27 |
| 41 | 2.12 | 3.78 | 5.01 | 5.94 | 6.54 |
| 42 | 2.18 | 3.92 | 5.2 | 6.12 | 6.81 |
| 43 | 2.23 | 4.02 | 5.35 | 6.36 | 7.03 |
| 44 | 2.29 | 4.13 | 5.54 | 6.55 | 7.3 |
| 45 | 2.36 | 4.23 | 5.69 | 6.79 | 7.58 |
| 46 | 2.42 | 4.33 | 5.89 | 7.03 | 7.81 |
| 47 | 2.47 | 4.48 | 6.04 | 7.23 | 8.1 |
| 48 | 2.53 | 4.59 | 6.24 | 7.41 | 8.39 |
| 49 | 2.58 | 4.69 | 6.39 | 7.67 | 8.62 |
| 50 | 2.86 | 4.8 | 6.54 | 7.86 | 8.92 |
| 51 | 2.69 | 4.9 | 6.69 | 8.12 | 9.22 |
| 52 | 2.75 | 5.05 | 6.91 | 8.31 | 9.45 |
| 53 | 2.8 | 5.16 | 7.06 | 8.58 | 9.68 |
| 54 | 2.86 | 5.32 | 7.21 | 8.77 | 10 |
| 55 | 2.91 | 5.42 | 7.36 | 9.04 | 10.23 |
| 56 | 2.97 | 5.53 | 7.52 | 9.24 | 10.55 |
| 57 | 3.03 | 5.64 | 7.74 | 9.43 | 10.78 |
| 58 | 3.08 | 5.75 | 7.89 | 9.63 | 11.11 |
| 59 | 3.16 | 5.85 | 8.04 | 9.91 | 11.35 |
| 60 | 3.22 | 5.96 | 8.2 | 10.11 | 11.58 |
| 61 | 3.28 | 6.07 | 8.35 | 10.31 | 11.92 |
| 62 | 3.33 | 6.18 | 8.58 | 10.6 | 12.16 |
| 63 | 3.39 | 6.28 | 8.74 | 10.8 | 12.5 |
| 64 | 3.45 | 6.39 | 8.89 | 11 | 12.75 |
| 65 | 3.5 | 6.5 | 9.23 | 11.3 | 12.98 |
| 66 | 3.56 | 6.6 | 9.29 | 11.5 | 13.34 |
| 67 | 3.61 | 6.71 | 9.44 | 11.7 | 13.58 |
| 68 | 3.67 | 6.88 | 9.6 | 11.9 | 13.83 |
| 69 | 3.72 | 6.99 | 9.76 | 12.1 | 14.19 |
| 70 | 3.78 | 7.1 | 9.99 | 12.41 | 14.43 |
| 71 | 3.83 | 7.21 | 10.16 | 12.61 | 14.68 |
| 72 | 3.89 | 7.32 | 10.32 | 12.82 | 14.92 |
| 73 | 3.95 | 7.42 | 10.48 | 13.02 | 15.17 |
| 74 | 4 | 7.53 | 10.63 | 13.22 | 15.54 |
| 75 | 4.1 | 7.64 | 10.79 | 13.43 | 15.8 |
| 76 | 4.15 | 7.75 | 10.95 | 13.75 | 16.04 |
| 77 | 4.21 | 7.93 | 11.11 | 13.96 | 16.43 |
| 78 | 4.27 | 8.04 | 11.27 | 14.16 | 16.68 |
| 79 | 4.32 | 8.15 | 11.53 | 14.37 | 16.93 |
| 80 | 4.38 | 8.26 | 11.69 | 14.57 | 17.18 |
| 81 | 4.43 | 8.37 | 11.85 | 14.78 | 17.58 |
| 82 | 4.49 | 8.48 | 12.02 | 14.98 | 17.83 |
| 83 | 4.55 | 8.59 | 12.17 | 15.31 | 18.09 |
| 84 | 4.6 | 8.7 | 12.33 | 15.52 | 18.34 |
| 85 | 4.66 | 8.81 | 12.49 | 15.72 | 18.59 |
| 86 | 4.72 | 8.92 | 12.65 | 15.93 | 18.84 |
| 87 | 4.77 | 9.03 | 12.81 | 16.3 | 19.26 |
| 88 | 4.83 | 9.14 | 12.96 | 16.51 | 19.52 |
| 89 | 4.88 | 9.25 | 13.13 | 16.72 | 19.77 |
| 90 | 4.94 | 9.44 | 13.42 | 16.92 | 20.03 |
| 91 | 5 | 9.55 | 13.57 | 17.13 | 20.28 |
| 92 | 5.05 | 9.66 | 13.73 | 17.34 | 20.53 |
| 93 | 5.11 | 9.77 | 13.89 | 17.72 | 20.97 |
| 94 | 5.17 | 9.89 | 14.05 | 17.92 | 21.23 |
| 95 | 5.22 | 10 | 14.21 | 18.13 | 21.49 |
| 96 | 5.28 | 10.11 | 14.37 | 18.34 | 21.74 |
| 97 | 5.34 | 10.22 | 14.54 | 18.55 | 22 |
| 98 | 5.39 | 10.33 | 14.69 | 18.76 | 22.25 |
| 99 | 5.45 | 10.44 | 14.86 | 18.97 | 22.71 |
| 100 | 5.5 | 10.55 | 15.02 | 19.18 | 22.97 |