Exhaust Bellows and Expansion Joints for Waukesha Engines
Bellows Systems provides high performance aftermarket exhaust bellows and expansion joints for Waukesha Engines used in gas compression, power generation and other applications. Bellows Systems exhaust expansion joints provides Multi ply Bellows with superior cycle life for protection against fatigue failure. Avoid costly downtime by choosing Bellows Systems Exhaust Bellows for you Waukesha Engine Exhaust System.
Bellows Systems Exhaust Bellows and Expansion Joints for Waukesha Engines,
Model – Part No.
  F2896 – A199516

  F2895 – 168525

  F2894 – 199516A

  L9390 (TWIN TURBO) – 199515

  L7042 (W/ TURBO)- 199515

  L5790 (W/ TURBO) – 199515

  L7042 (NON TURBO) – 199517

  L5790 (NON TURBO) – 199517

  L9390 – 199515A

  VHP series – 199515G,  199515H, 199515J
Custom Expansion Joints available on request. Please send your specifications. Waukesha Part Numbers are for reference only. To learn more about our Waukesha Exhaust Expansion Joint products, call us at (800) 233-0623.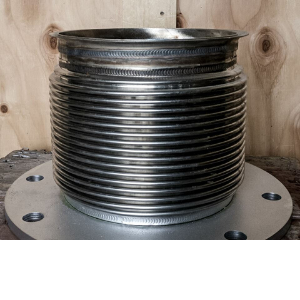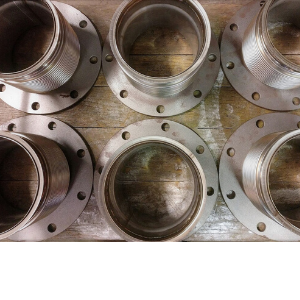 Standard Component and Material for manufacturing for Waukesha exhaust expansion joints:
Bellows Material – 0.010″ or 0.012″ 321 SS.

Bellows Type – Standard two-ply metal bellows.

Weld ends and Venturi/ Liner: 0.050″ 304/321 SS

Flanges – Carbon Steel Plate.
On request, bellows material, type, and flange material can be customized. To see a list of materials and bellows options available, please refer to our standard Metal Bellows or Single Expansion Joint product pages.
Service recommendations:
Environment: Operates on engine exhaust gases at 10 psig and 1,000 deg. F

Allowed Movements: Compression – 1″

Extension – 1/2″

Lateral Offset – 1/2″
Note:
Flange OD, BHC, Hole Size and Hole Pattern corresponds to ASA/ ANSI B16.5 150# Flange Dimensions for flanges of same nominal size.

To prevent damage to turbochargers & bellows, disconnect one flange and block air flow during all moving operations.