Exhaust Bellows and Expansion Joints for
White Superior Engines
Bellows Systems has been manufacturing and supplying quality OEM replacement Expansion Joints for Cooper and White Superior Engines since the early 70's.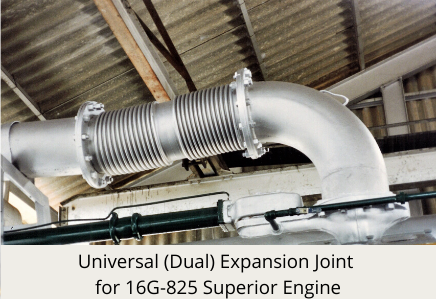 Bellows Systems manufactures exhaust bellows for virtually every Superior engine model. Our standard designs include both Universal and Single type Expansion Joints.
Some of the common engine models include,
6G-510 – 4″ Single EJ

6GT-510 – 6″ Single EJ

6G-825 – 8″ Single EJ

6GT-825 – 10″ Single EJ

8G-825 – 10″ Single EJ
GT-825 – 12″ Single EJ

12G-825 – 12″ Dual EJ

12GT-825 – 14″ Dual EJ

16G-825 – 14″ Dual EJ

16GT-825 – 18″ Dual EJ
We carry a large inventory of standard and custom gaskets, flanges to support your  engine exhaust systems needs.
To learn more about our expansion joint and exhaust manifold products for Superior engines contact one of our Sales or Technical Support staff at sales@bellows-systems.com.
STANDARD MATERIALS:
Bellows element – 321 Stainless Steel, 1 Ply or 2 Ply

Weld Neck/ Liner – 321 or 304 Stainless Steel

Flange – Carbon Steel
SERVICE RECOMMENDATIONS AND LIMITS: 
Operation Conditions –

20 PSIG at 1000 deg. F. 
Movements:     

Compression – 2 Inch.

 Extension – 1 Inch.

 Lateral – 1 Inch.
NOTES:
Liners in optional and can be furnished on customer request.

Custom designs available by request. Send specifications to